Interior Design
It's nothing new to say that the kitchen is the heart of the home. Some families rush in and out of the kitchen to their daily activities and require smart storage and family organization! Some families are lucky enough to spend time creating meals and memories in their kitchen. The kitchen plays a major role in family togetherness and is often a priority in the top features of a Home Buyer's wish list when it comes to real-estate.
Top requirement? Islands! Every kitchen in new construction or remodel tries to tie in some kind of island or peninsula space for either prep work, grocery un-loading landing space, or eating space for the family. An island is important and our experienced designers at Floor to Ceiling Carpet One are experts in planning your kitchen with the best island layout for you and your family.
These are not professional room scenes - they are the homes of your neighbors! We have plenty more installation photos for you to browse through on our Houzz page. At Floor to Ceiling Carpet One Floor & Home we have professional, certified interior designers who are ready to help you with your project. And not just with flooring! We can help you with staging, furniture choice, paint and everything else you need to design your home.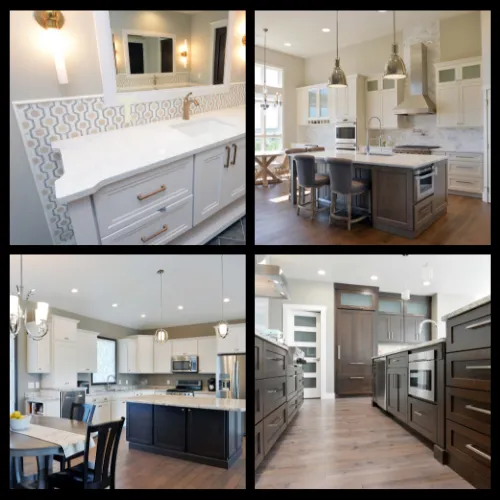 Putting together a room in your home or a space in your commercial setting can be confusing and overwhelming, but our designers have plenty of experience doing this. We can make interior design fun! We want to help you express your personal style in your home using the best products. Drop by our showroom in Fargo or make an appointment with one of our interior designers today!
Click the banner below to visit our Design Studio 360 website!